Cooperation among the different members of the gas industry is essential in order to progress properly towards the safe and efficient use of hydrogen in the future energy system. To achieve this, it is necessary to identify the research gaps and share the available information on the H2 tolerance of the gas grid from both running and completed projects.
HIPS-NET – Hydrogen In Pipeline Systems Network, was created with the aim of establishing a common pan-European understanding of admissible hydrogen concentration in the natural gas grid.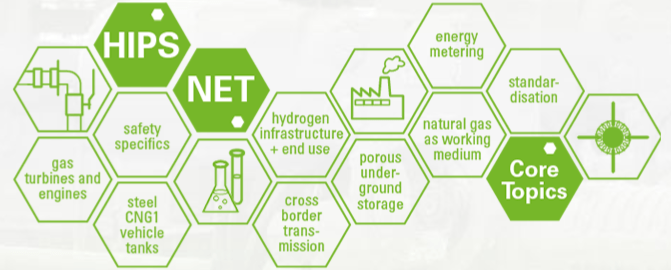 It is managed by DBI GUT in close cooperation with GERG. 
This network keeps its members updated on new developments and activities in the world of hydrogen and its use in natural gas systems. This knowledge helps to better understand the current context of hydrogen in gas grids and its utilisation.
HIPS-NET is running continuously and for an annual fee of €2000 members receive a quarterly newsletter and invitations to an annual workshop. This is a great opportunity to meet network partners for information exchange and discussion on current areas of research.
The network is open to new members. Contact the GERG Secretariat for all questions relating to membership.
For other information, please visit the project website or read the report of the HIPS Project listed below.   
This project directly follows the highly successful HIPS Project, the report can be also found below.