Together with the energy community and key stakeholders, GERG has been working on the conditions for safe development and competitive positioning of biomethane in the energy system.
The project has four objectives: 
Share knowledge on biomethane quality and impact. 
Study the impact of biomethane quality (corrosive compounds and silicon) on the gas supply chain. 
Anticipate potential operational issues for gas operators. 
Work with CEN, the European Commission, the European Biogas Association (EBA) Marcogaz and others sharing expertise and knowledge.  

The phase 2a status review and gap analysis, supported by €1M from the European Commission and €300k from GERG, was successfully completed in April 2019. All reports have been issued and accepted by CEN. The quality of the work delivered, on time and to budget, was fully acknowledged. We are now awaiting sign-off for Phase 2b by the Commission, with phase 2c to follow. These will follow-up on the previous work with experimental programs.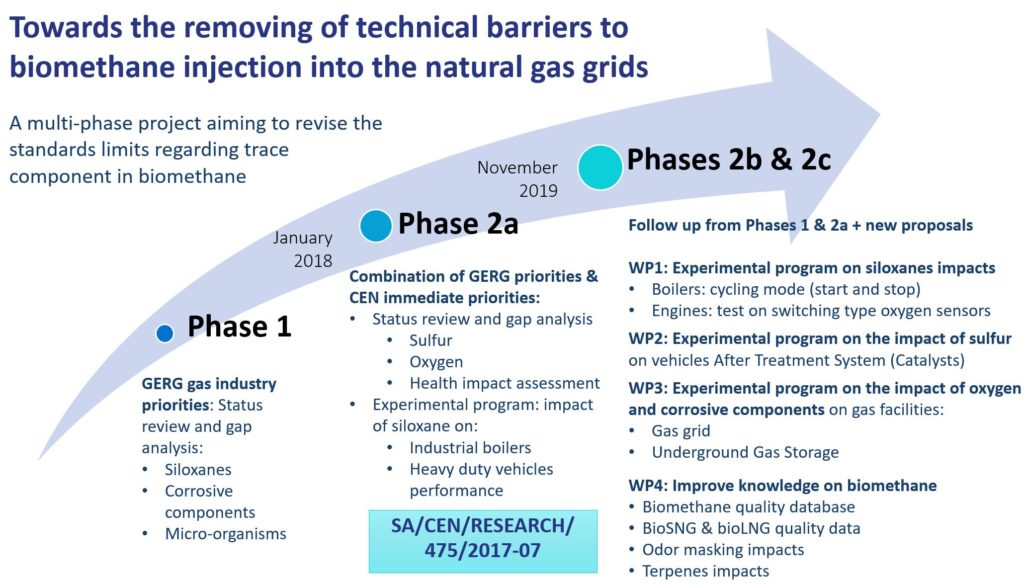 All the work is overseen by a Supervisory Board put in place by CEN Technical Committee 408, with a view to updating standards for biomethane injection and use of gas in NGVs.
See the report below for more information. For the full Phase 2a report, please contact the GERG Secretariat.